February 2018 News
---
National Market Update
Note December data below is the most recent published by the National Association of Realtors®.
National Association of Realtors® (NAR) data shows that sales of existing homes relaxed in most of the U.S. in December, but for all of 2017 sales grew 1.1% -- in fact 2017 turned out to be the best year for sales in 11 years. December's existing-home sales slipped 3.6 percent to a seasonally adjusted annual rate of 5.57 million from a 5.78 million in November.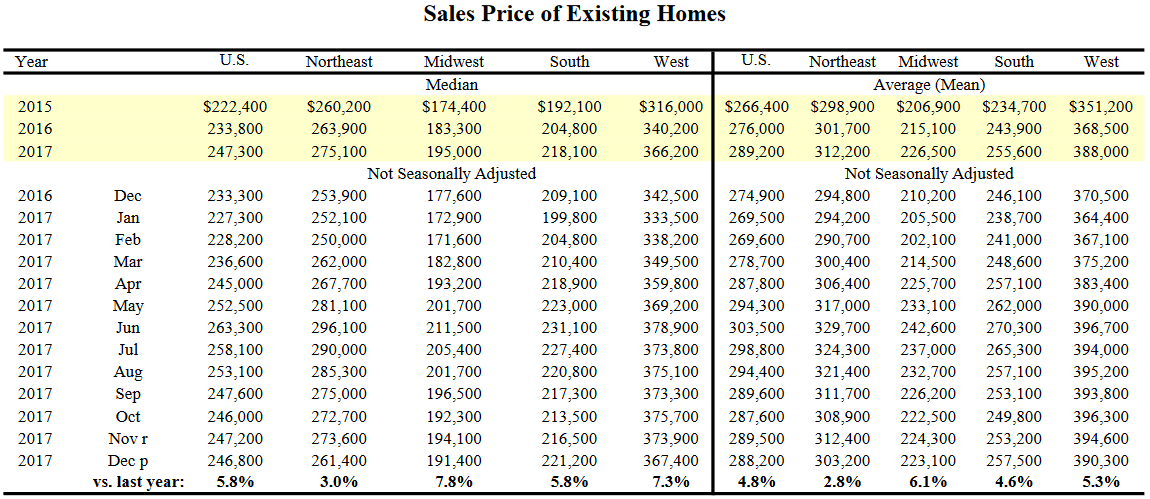 NAR's chief economist, Lawrence Yun, said the housing market performed well in 2017, with notable wealth gains for homeowners and historically low distressed property sales. "Existing sales concluded the year on a softer note, but they were guided higher these last 12 months by a multi-year streak of exceptional job growth, which ignited buyer demand," Yun said. He added, "At the same time, market conditions were far from perfect. New listings struggled to keep up with what was sold very quickly, and buying became less affordable in a large swath of the country. These two factors ultimately muted what should have been a stronger sales pace."

Housing Data Takeaways
December's median existing-home price for all housing types in was $246,800, up 5.8% from December 2016 ($233,300). December's price increase marks the 70 consecutive months of year-over-year gains.
Total housing inventory at the end of December fell 11.4% to 1.48 million existing homes available for sale; this is 10.3% lower than a year ago (1.65 million) and has dipped year-over-year for 31 straight months. Unsold inventory offers a 3.2-month supply at the current sales pace, down from 3.6 months one year ago -- the lowest level since NAR started tracking in 1999.
First-time buyers drove 32% of U.S. sales in December, up from 29% in November and the same as a year ago. For all of 2017, first-time buyers drove 34% of sales.
According to Freddie Mac, the average commitment rate for a 30-year, conventional, fixed-rate mortgage inched higher for a third straight month to 3.95% in December from 3.92% in November. For all of 2017, the rate was 3.99%.
Regarding first-time buyers, NAR's economist Lawrence Yun suggested that, "Rising wages and the expanding economy should lay the foundation for 2018 being the turning point towards an uptick in sales to first-time buyers," adding that "...if inventory conditions fail to improve, higher mortgage rates and prices will further eat into affordability and prevent many renters from becoming homeowners."
The Best Homes Sell Fast!
Smart sellers understand that a proactive selling strategy can go a long way in getting their home sold quickly, and for top dollar. Here are three tips for today's sellers:
Make your home shine. Buyers like to envision a home they can move right into. Clean carpets, fresh paint, and a nicely landscaped yard can go a long way to make perspective buyers feel at home.

Anticipate the selling season. Many sellers wait for the market to pick up before they place their home for sale, but smart sellers anticipate these seasonal adjustments and list their homes early in the sales cycle. Give yourself the best opportunity by placing your home on the market before everyone else does!

Price your home right. Markets change, so don't be influenced by last year's selling activity and home prices. We will evaluate your home based on the most recent sales data and price it to sell for the most money in the shortest amount of time.
Whether you're looking to sell today or are thinking of selling tomorrow, please feel free to call and ask for an analysis of our recent market activity. We would be more than happy answer any questions you might have.
Make Your Offer Count!